Modular Chiller Plants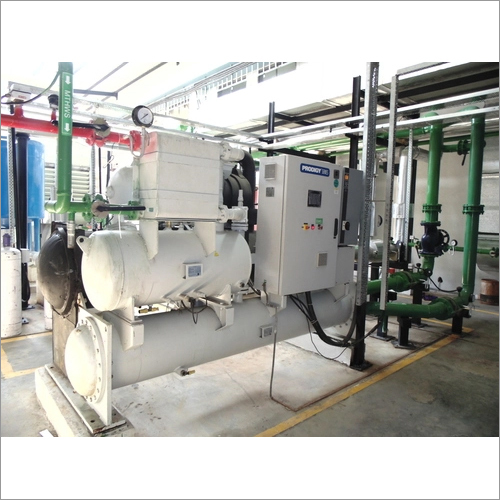 Modular Chiller Plants
Product Description
A Chiller Plant is a machine that expels warmth from a fluid by means of vapor-pressure or ingestion refrigeration cycle. This fluid would then be able to circle through a warmth exchanger to cool gear, or another procedure stream, for example, air or process water. As a result, refrigeration makes waste warm that must be depleted for more prominent proficiency, recouped for warming purposes. Chilled water is utilized to cool and dehumidify air in mid-to huge size business, modern, and institutional offices. Water chillers can be water-cooled, air-cooled, or evaporator cooled. Water-cooled frameworks can give effectiveness and natural effect points of interest over air-cooled frameworks.

Automation Grade: Automatic, Semi-Automatic, Manual
Plant Type: Milk Chilling Plant, Water Chilling Plant, Oil Chilling Plant, Anodized Chilling Plant, Glycol Chilling Plant
Chilling Capacity (litres/day): 0-2000, 2000-4000, 4000-8000, 8000-12000, 12000-20000, >20000
Tons of Refrigeration (TR): 0-5 , 5-10, 10-15, 15-20, 20-25, >25
Weather Controlling Solution India are the original service providers of Industrial Chiller plants and offers a wide range of chilling plant solutions from Air cooled chilling plant to water cooled chilling plant to Skid mounted chiller and Green Chiller, which is designed based on your specific requirement. We are backed up with years of experience in Chiller Plant application, design and control. We have installed chiller plants in various industries including Plastics, Printing, Laser, Rubber, Beverage, Medical and many other industries.
Working for following chiller ranges:
Vapour Absorption Chiller
Double Effect Steam Fired
Single Effect Steam Fired
Oil and Gas Fired
Hot Water fired
Vapour Compression Chillers
Reciprocating Chiller
Centrifugal Chiller
Screw Chiller
Scroll Chillers
Brands which we can deal: Kirloskar, Thermax, Trane, Carrier, Daikin etc.
Applications:
A chiller can be realized as a refrigeration system that cools water. Air conditioners and dehumidifiers condition the air while a chiller, using the same refrigerating operations, cools water, oil, or some other fluid. This chilled solution can then be used for cooling in a wide range of operations. Some of the most common applications are as follow:
Printing Industry-Cooling warm rollers due to friction and ovens curing the ink, along with ultraviolet lamps also for curing purposes.
Medical Industry: MRI Systems-The hospital MRI units need to be cooled to operate properly.
HVAC Industry: Large scale air-conditioning systems pump this chilled water to coils in specific areas of high rise buildings. The air handling systems for each area open and close the water flow through specific area keeping the air of the rooms at a desired temperature.
Laser Cutting Industry: Technology has created machines that can cut out very specific steel products with the precise use of a laser cutting machine. These lasers run at very high temperatures and must be cooled to run properly.
Brewery Industry- The cooling of the kettles in fermentation has become an upcoming industry where chiller have been used to keep the kettles and storage area cold temperatures.
Product details
| | |
| --- | --- |
| Type | screw |
| Brand | Blue Star |
| Tonnage | 100 |
| Country of Origin | Made in India |
| Phase | 3 |
Trade Information
Cash Against Delivery (CAD), Cash on Delivery (COD), Cash Advance (CA), Cash in Advance (CID), Cheque, Delivery Point (DP)

1 Per Week
1 Months

Asia, Central America, North America, Eastern Europe, Western Europe, Middle East, Africa